Our Miniature Schnauzer Males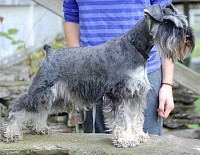 BlingQueen's Oscar Wilde 
"Oscar" is our AKC registered salt and pepper stud dog. He has an outgoing and playful personality and loves attention. Oscar carries himself well and is such a show off. He is handsome and he knows it! Oscar has an outstanding pedigree with many AKC champions from some of the best kennels in the USA. He is descended from the winningest Miniature Schnauzer of all time- CH Regency's Twist of Fate (aka Twister). Twister is a Westminster Kennel Club best of breed winner. We are so proud to have him standing at stud at Rivertree Miniature Schnauzers!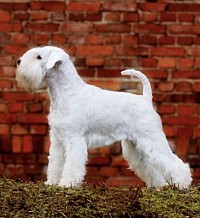 Frozen Lights Austin Powers
aka "Mookie" is an AKC/ZKP (FCI) registered white male Miniature Schnauzer who was imported from Europe. He made his debut in the show ring at 4 months and won best puppy! He has a lengthy pedigree of international champions. Mookie is a very loyal dog who follows you everywhere and is very protective of his family. He is also extremely eager to please and very easy to train. His favorite thing to do is sit in my lap. He is such a mama's boy!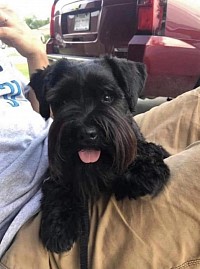 Holt's Texas Ace
Ace, our youngest stud, is a stunning black AKC registered Miniature Schnauzer with a sweet laid back personality. He is our smallest boy, weighing just 12 pounds. Ace has a wonderful compact body and a nice head and ear set. In addition to black, Ace also carries white so he can produce white puppies with any of our white girls. Ace will father his first litter in 2022. 
Follow us on Facebook: fb.me/rivertreeminis