Frequently Asked Questions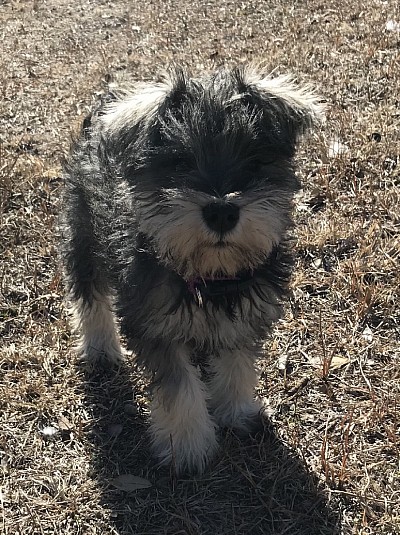 Answers to our most commonly asked questions...
Where are you located?
We are located in Aledo, Texas which is...
15 minutes west of Fort Worth
45 minutes west of Dallas
3 hours north of Austin
4.5 hours north of San Antonio
5 hours northwest Houston.
How much do your puppies cost?
Our puppies are $1500. 
Are your dogs registered?
Yes, all our Miniature Schnauzers are registered with the American Kennel Club (AKC). 
How big will the puppies get?
We breed Miniature Schnauzers according to the AKC breed standard. Average weight is 12-18 pounds and average height is 12 to 14 inches at the shoulder. We do not try to breed "toy" sizes although sometimes we have a puppy that is smaller than average.
Do you ship puppies? What about delivery?
We do not ship puppies as cargo because we feel this is both unsafe and traumatic for them. However, we do offer delivery options for those who are not able to pick up their puppy in person...
Car Nanny
Our experienced and trusted Car Nanny delivers to your home or a prearranged meeting place. This is an individual that we know personally (not a commercial puppy transporter) who will give your baby special attention and care for the entire trip.
Car delivery prices:
Houston, San Antonio, Lubbock $400
Austin $300
Tyler $200
Dallas, Waco $150
Other destinations may be possible. Message me and I'll ask for rates. 
Flight Nanny
Our Flight Nanny is also someone we know personally. She is an animal lover and a flight attendant. She's the perfect person to transport your baby if you live outside Texas! Our Flight Nanny will meet you at your nearest airport. 
Plane delivery prices:
Varies based on distance and current airline rates. Typically around $400. Message me and I will put you in contact with our Flight Nanny to get rates. 
Airport Delivery (you fly here) We are also able to meet you in person at DFW airport if you want to buy a round trip ticket and carry the puppy in the cabin with you. Airport delivery to DFW is $50. 


Small private planes may fly into Bourland Field and we can meet you there at no extra cost. 
Larger private planes may fly into Meacham Field and we can meet you there for $20. 

Do your puppies shed? What about grooming?
No, Miniature Schnauzers do not shed. However, they do require grooming to keep them tidy looking. Most people take their Mini Schnauzer to a groomer to have a traditional Schnauzer cut. It's also possible to learn to do this at home. We recommend the Wahl KM10 clipper with the 30, 10 and 7F blades or learning to hand strip your dog. 
Do you crop ears?
No. Most of our puppies go home before the age that ears should be done. Ear cropping is an art- many vets are not experienced enough or not willing to perform this surgery. Cropping a puppy's ears before the 10-12 week mark can result in a unappealing look because the puppy is not developed enough for the vet to know exactly where the cut should be made. When you see Schnauzers with cropped ears that are either too small or too large its is quite possible that they were done at too young of an age or by an inexperienced person. Should you decide to have your puppy's ears cropped, your vet can hopefully direct you to someone qualified to do it. Remember...it is a cosmetic surgery that requires anesthesia and should be performed by someone with experience!
What about docking tails?
It depends on buyer preference. Do a Google search for pictures of both looks and see what you prefer. You will need to let us know shortly after birth if you want your puppy's tail to be docked or left natural. If you decide you do not want a docked tail on your Mini Schnauzer, a deposit must be placed before they are 2 days old. If there is no deposit, the puppies will all have their tail docked.
How do I adopt one of your puppies?
Start by reading our website and Facebook page where you will find answers to many of your questions. Next, please call or text us at (682) 597-4128 or email us at rivertreeminis@gmail.com to let us know what you are looking for. We are happy to answer your questions and will probably have some for you too. Once you are certain you want one of our puppies (and we are certain you will provide it with a good home) you may send a deposit to hold a currently available puppy or a spot on our waiting list for a future puppy. We place families on our waiting list in the order deposits were received. 
Once puppies are born, we will post pictures on our website and Facebook page. Those with paid deposits pick first. Any puppies not reserved by someone on our waiting list will be marked as "available" on our website and reserved on a first come first served basis. Pictures will be updated at regular intervals so you can watch your puppy grow. Before they go home, they will get dewormed and have first shots. For the safety of our puppies, we ask that you not visit them in person until after shots are given. We are very protective of our puppies and want to minimize any potential exposure to dangerous diseases like Parvo.
Our puppies are raised in our home with much human handling so they will be well socialized when you take them home. We are always available for questions to help make the transition from our home to yours as easy as possible. 
When can I pick up my puppy?

Puppies must be a minimum of 8 weeks, possibly older if flying with a flight nanny. We reserve the right to keep a puppy past 8 weeks if we feel it is small and needs more time to wean. Please remember these are babies with immature immune systems. We ask that you not take your puppy to places like Petsmart, dog parks, hotels or anywhere unknown dogs have been until they have completed all vaccinations. Your vet can tell you when it is safe to take your puppy in public. 
What type of food are you feeding the puppy?
Our puppies are fed Diamond Naturals Small Breed Puppy. If you can't find it near you, it is available on www.chewy.com at very reasonable prices. 
What should I bring to pick up the puppy?
A crate or basket is useful to carry the puppy home in. Some puppies get car sick so it may be a good idea to bring puppy pads or paper towels and trash bags. Remember it is not safe to stop roadside with a young puppy. If you have a long drive plan on disposing of waste when you stop.