Our Miniature Schnauzer Females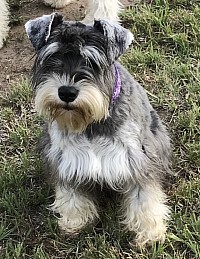 Somerset's Blazing Pepper
"Pepper" is an AKC registered salt and pepper female. She was our first Miniature Schnauzer and the reason we fell in love with the breed. Pepper has an outstanding pedigree that includes both American and international champions. We love her striking markings and sweet personality. Her favorite thing to do is to sneak a kiss...she will get you if you aren't paying attention! She also loves to wrestle with Oscar and Austin and to steal Kona's bone. She is very fun and has so much personality!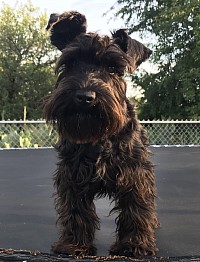 TumblinHill's Little Kona
"Kona" is a black AKC registered Miniature Schnauzer. She has an impressive pedigree of AKC champions and we are very lucky to have her. Kona is the sweetest girl! My children fight over who gets to sleep with her at night. She is so well behaved, affectionate and easy going. She is the smallest Mini Schnauzer in our pack but that doesn't stop her from keeping up with the other dogs. Kona's favorite thing to do is collect bones. She has several places where she hides them from the other dogs. She can often be seen walking around with a bone hanging out of her mouth. You know Kona likes you if she hides one of her bones in your lap!
Tori's Luna and Yuki
Luna and Yuki are our newest female Schnauzers. They are both AKC registered white Miniature Schnauzers. Luna's name means moon in Spanish and Yuki's name means snow in Japanese. Luna is slightly larger and is a big cuddler. She prefers to be held or in someone's lap. Yuki is smaller and is a little spitfire! She cracks us up with her playful antics. Both are truly stunning!
Follow us on Facebook: fb.me/rivertreeminis